Wikia implemented the new navigation menus across all wikis on October 3, 2012. See:
Some suggestions for improvement:
In the past (before October 3, 2012) the Cannabis Wiki used custom site navigation. See full-size screenshots linked below. It is better in some ways than the new expanded Wiki Navigation.
The best navigation menus, by far, were the nested menus in the left sidebar before the Oasis/Wikia skin got rid of the left sidebar. See example from June 26, 2010 here:
The nested part does not activate in the archive page, but you can see that the arrows in the sidebar navigation menus point to nested menus.
See below for info on a variety of nested hover menus on various skins whose code might be adapted for use elsewhere.
[

]
Nested site navigation on the Vector skin. See mw:Extension:CSS MenuSidebar. See also: mw:Extension talk:CSS MenuSidebar#MediaWiki version 1.16.x for the 1.16.x version.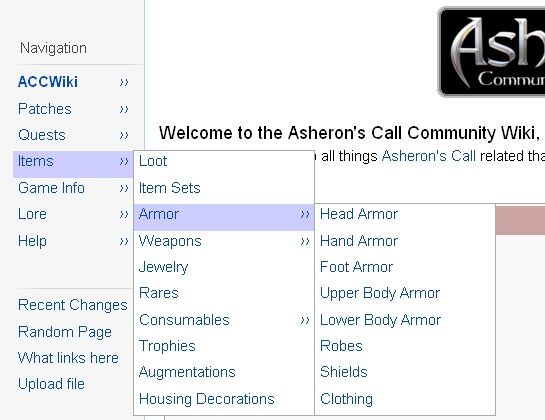 See nested hover menus in the sidebar on the Vector skin here on the ACC Wiki:
Monobook skin
[
]
There are some well-implemented nested hover menus in the sidebar of the Nimbus skin here:
Here is a treeview extension below for Monobook. Deeper levels in the sidebar menus are accessed by clicking the plus signs.
See also
[
]
See also: